Useful Guideline on Writing a Research Paper
Post date: July 27, 2018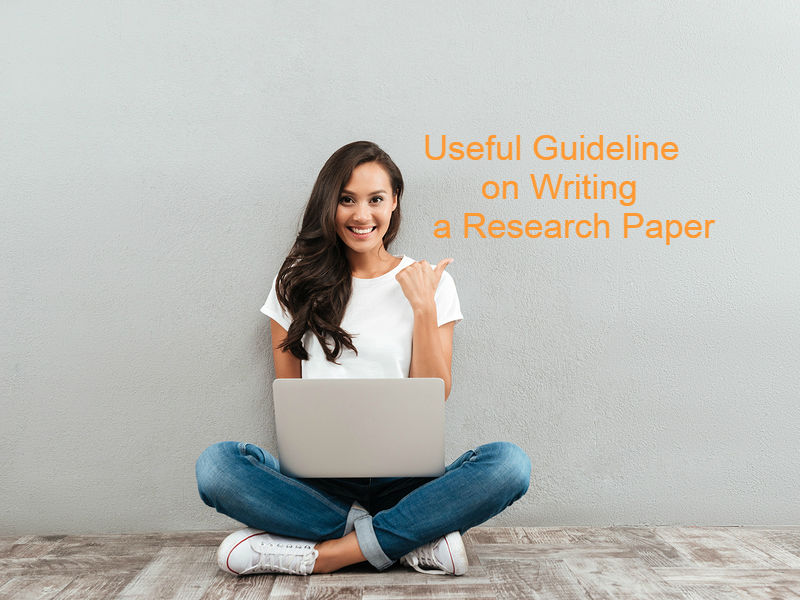 7 Effective Steps to Write a Great Research Paper
How can you define a research paper? It is a piece of academic writing that is completely based on the original research of an author on a particular topic. It also analyzes and interprets the findings of this research. There are various types of research papers, such as a course work, a diploma work or a doctoral dissertation.
This article offers some effective tips to write a good research paper. Achieving supreme perfection requires having more than just the knowledge. Thus, it is recommended to have a positive attitude and believe in your own ability to achieve the highest results. That is actually a great start to write a research paper that is worth a grade A+.
Step 1. Start a research paper with choosing a topic
The topic you choose for your research paper should be both interesting and challenging. Your attitude towards the topic usually determines the amount of time and effort you are ready to put into your research. Before starting full-scale research, it is necessary to obtain an approval for your topic from the teacher. If you have any difficulties with understating the assignment or completing the project, you should re-read your task sheet carefully one more time or ask your teacher to explain exactly what is expected of you. Don't forget to select a subject among interesting research paper topics. In this way, you will always stay motivated and inspired. In addition, it is easier to manage the subject you feel confident about. Thus, try to avoid subjects that you find too specialized, technical, or learned. The same goes about the topics with a limited range of source materials.
Step 2. Find information for your research by surfing the Net
In order to find the most reliable sources of information, you should pay attention to domain name extensions. For example, .edu (educational institution), .org (non-profit organization) or .gov (government) tend to provide you with the latest data that is more credible. However, try to double-check the information in order to avoid possible political bias when using some government sites. Even though some .com sites are really excellent, be selective of them as they usually contain only advertisements for products. There are also numerous personal home pages the quality of which varies greatly. Learn how to assess websites critically in order to search more effectively on the Net. It is definitely helpful in terms of eliminating irrelevant sites and, consequently, saving more of your precious time.
Considering the variety of domain name extensions that has recently arrived, there might been some confusion in telling the difference between them, whether a .cc or .tv site is in reality a .net, a .com, or an .edu site. Thus, it is also recommended to check out print materials that you can easily find in the public and university libraries, for example, encyclopedias, dictionaries, magazines, newspapers, government publications, guides, reports, zip or postal code, etc. It is also worth checking out government agencies and businesses and contacting people in your community that might be knowledgeable in the field you are researching.
Making research requires reading, evaluating, printing out, photocopying, bookmarking Internet sites, and taking notes of relevant information. Once you have gathered your resources, it is high time to write down full bibliographical information including author, title, date of publication, publisher, place of publication, page numbers, creation dates on Web pages, URLs, and the date of your access. It is highly advisable to save this document on your laptop or desktop computer and print out a copy to be sure you don't lose it. If an article doesn't have bibliographical information, it is useless because it cannot be cited as a source.
Step 3. Make your thesis statement
A thesis statement is normally required in the majority of research papers. If you have any doubts, you should better ask your teacher about the requirements to your paper. The main idea of your research work is presented by a thesis statement. Thus, it is usually a key component as it conveys a central point of the whole piece of writing. It is essential that the arguments you provide are based on this central idea. The thesis statement should consist of one or two sentences. So, some critical thinking is a must. Since the main point of your research is to provide arguments that support and defend your idea, a thesis statement can be compared to a declaration of your belief.
If you feel the lack of ideas for your research paper, access essay examples database to get inspired. This great research offers a wide range of original essays that are classified by topic.
A thesis statement is usually provided in the introduction part of your paper. Undoubtedly, it is hard to make up a thesis statement immediately when you have just started carrying out your research. Before you create a thesis statement, it is important to collect data, analyze materials and organize ideas. Do not expect to formulate a final statement before you have fulfilled the assignment and completed the paper. Be prepared to change your thesis statement while you are developing your ideas. It is critical to avoid generic and vague statements or arguments. In order to appeal to the audience, the paper should present new and educative information to read. If you want to attract your reader's attention with your thesis statement, you shouldn't cite any other authors in this section. This is one of the keys of how to write a good research paper because instead of simply copying, you present your own ideas using your own words.
The aim of the thesis statement is to explain your interpretation of the subject to the readers. You should mention your expectations from the paper and answer the questions provided in the assignment. Additionally, you should ensure that your thesis statement is strong. Preferably, it should be revised by your instructor to avoid any confusion. Otherwise, you may evaluate it yourself by checking whether your statement answers the assignment question, whether your position can be disputed, whether your statement is precise enough, whether it provides new information, etc. Bear in mind that changing elements of your essay while writing and reviewing is absolutely fine. So, if you notice that your paper is lacking some of the vital elements, it is required to add them. Moreover, if your arguments aren't disputable, check them out so that you write a real argument instead of providing a summary. In order to get a well-prepared thesis statement, you should first shape your ideas in a logical and constructive way. In this way, your credibility as an author of the paper increases. Last but not the least, a well-shaped thesis makes a good impression about its creator.
Step 4. Write an outline to your research paper
Basically, a research paper consists of a title page, abstract, introduction, manuscript body, reference, and optionally tables, figures, and appendix. It could be written either in a formal or informal way. An informal outline serves as a tool to help you organize the ideas. Since it is more like a working outline, some elements can be revised, added and canceled. With its help, an author is able to arrange the key points and make them clear for readers. At the same time, a formal outline might be asked to submit. In this type of an outline, an author should use numbers and letters in order to arrange topics and subtopics in a logical order.
Step 5. Organize your notes
Once you have written an outline to your paper, organize all the research data by critically analyzing it. With the help of available sources, verify whether the information is up-to-date, factual, and correct. You should also note the opposing views to support your thesis. This is probably the most important step in the process of writing a research paper, which involves analyzing, sorting, synthesizing, and digesting the data you have gathered. You must learn how to effectively communicate your ideas and research findings to readers through written words.
Step 6. Write your first draft
Start with working on each idea you plan to develop in your research paper by using a technique that suits you the best. It is advisable to organize it according to your outline to save time later when revising and improving your essay. In this way, writing a final paper is a piece of cake.
Step 7. Type final paper
Having followed the steps mentioned above, you know exactly how to write a good research paper. So, it is time to type the final paper, proofread it carefully for spelling, missing words, punctuation, and have it ready at least a day before the deadline. Believe it or not, A+ is just around the corner.
Related Posts