List of Interesting Topics for Your PowerPoint Presentation
Post date: August 28, 2017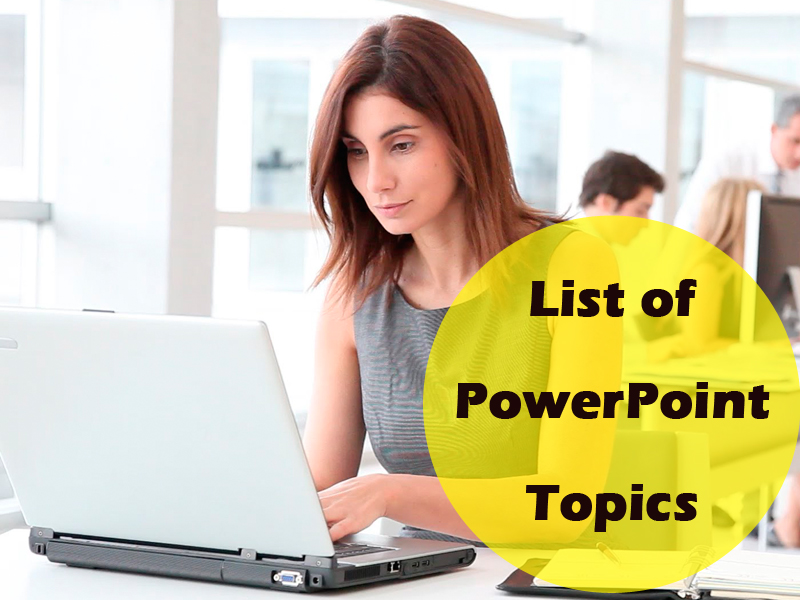 PowerPoint presentations have recently become a great accompaniment to seminars, lectures or any other kinds of public speeches. Apart from being a helpful visual tool, PowerPoint presentations make the audience become more interested in what is said as well as highlight the key points of a represented topic.
Such type of presentations are aimed at drawing a viewer's attention, state questions for discussion or contemplation and make those, who are listening follow your ideas in a consistent and succinct way.
PowerPoint presentations are widely used in each sphere of life. Though, most of them bear educational purpose, schools and universities aren't sole places where they are useful. Big and small companies, important businesses and enterprises have started using PowerPoint presentation to raise awareness of new or upcoming products among clients and employees, to presents some reformations and new rules, to increase the level of the teamwork and etc. PowerPoint presentations have become a beneficial tool to provide customers, coworkers, potential business clients or just an average person with certain important information and inspire or motivate one to act according to the primary purpose of a presentation.
It is significant to pay attention to the design and content of your presentation, too. Make sure you avoid using unpleasant for perception colors (template's color is meant) and making conclusions that might be accepted as offensive according to gender, culture, and religion and etc. criteria. To make your presentation even more eye-catching, turn for help to FPPT.com site, from which you can download nice presentation templates for free.
And now, let's have a look at some interesting and good for discussion topics, which would serve as a perfect ground for your PowerPoint presentation.
Educational Presentation Topics Suggested for Students
• How to Overcome Stress Being a Student?
• Benefits of Online Education
• What the Classrooms Will Be Like in 20 Years?
• Can a School-Leaved Decide on His Future on His Own?
• Should Sex Education Be Compulsory in Schools?
• Pros and Cons: E-Books vs. Printed Books
• Grades or Knowledge: What Is More Important?
Topics for Business Presentations
• Time Management Skills
• How to Raise Your Productivity Level?
• Importance of Teamwork
• Balance of Average Payments
• Business without Borders
• What Are Perfect Labor Conditions?
• World's Economic Growth
• Need for Extension Courses
• Economics' Future Challenges
Topics for Technology Presentations
• 4G Technology
• Gesture Recognition Technology
• Phone Apps and Their Role in Everyday Life
• Cyber Bullying
• How to Provide Network Security?
• Could People Survive without the Internet?
• Android vs. iPhone
• Blue Brain: Myth or Reality?
Related Posts